What's outside
I perceived the very concept of a budget smartphone in a metal case with skepticism. After all, metal can also look cheap, but "budget" can manifest itself in processing or painting. But the Honor 5X doesn't look like an inexpensive handset at all.
What's inside
The Qualcomm Snapdragon 615 platform can be called the optimal choice for low-cost smartphones. It shows a good level of performance with modest power consumption. Depending on the load, the system automatically uses four cores with a low frequency (Cortex-A53, 1.2 GHz) or four cores with a high frequency (Cortex-A53, 1.5 GHz) – due to this, in theory, optimal power consumption is achieved.
In Russia, a model with two gigabytes of RAM is sold, but in other countries (in China, for example), you can also buy a version with 3 GB of RAM. In case you need a small foundation for the future, because programs are getting heavier every day. In both cases, there will be 16 GB of permanent memory, of which you can only manage ten – the rest is already occupied by the operating system. But you remember that Honor 5X has a microSD slot into which you can install a card up to 128 GB.
What's the result?
In general, we must admit that Huawei Honor 5X is an excellent choice for your money. No cheap plastic, no second-rate components – the body is made of high-quality aluminum, the screen is quite good, and the sound (which I rarely pay attention to in reviews, since it strongly depends on the headphones used) turned out to be very good.
In terms of performance, the smartphone corresponds to almost any mid-range smartphone on the market, but costs significantly less than analogues from A-brands. Colleague Evgeniy Kharitonov advises classifying Honor 5X as middle class, but I would not be tied to the ruble price. In all respects, a smartphone for 200 bucks (give or take) is a budget product, and there is no need to reshape the picture of the world because the ruble is no longer a cake.
Performance is not record-breaking, but it is enough for most tasks. In addition, this disadvantage is compensated by one big plus – impressive battery life.
Htc one a9 / sony xperia m5
Huawei Honor 5X clearly outperforms A-brand smartphones with similar characteristics. Yes, the Xperia M5 and One A9 have a slightly smaller screen diagonal (5 inches versus 5.5), but otherwise the characteristics are very similar. Slightly inferior to them in terms of performance, Honor 5X wins back due to better autonomy and a much lower cost.
Huawei honor 5x 📱 – characteristics, price, review, where to buy
Are you interested in the characteristics of Huawei Honor 5X (Huawei Honor 5X)? We have collected all the important information to help you make your choice.
This is a 2020 model, with an IPS screen, 5.5″ diagonal and a resolution of 1080 x 1920 pixels.
The 8-core Qualcomm Snapdragon 616 MSM8939v2 processor and 3 GB of RAM are responsible for the performance. Battery capacity 3000 mAh.
Fans of mobile photography should pay attention to the camera with an f/2 aperture and a resolution of 4160 x 3120 pixels (13 megapixels).
Xiaomi redmi note 3
The closest competitor to Huawei Honor 5X may be Xiaomi Redmi Note 3, which, however, cannot yet be officially purchased in Russia (you will have to deal with Chinese online stores or "gray" suppliers). If we compare the price in the Chinese market, the 5X and Redmi Note 3 are in the same niche.
Buy 5.5″ smartphone honor 5x 16 GB gray in the dns online store. characteristics, price honor 5x | 1043806
Specifications of Huawei honor 5x
Case materials: metal, glass (front panel), plastic inserts
Operating system: Android 5.1, EMUI 3.1
Network: GSM, WCDMA, LTE (FDD-LTE) (nanoSIM and microSIM), 2 SIM card slots
Platform: Qualcomm Snapdragon 615
Processor: eight-core, 64-bit, four cores (Cortex-A53) at 1.5 GHz and four cores (Cortex-A53) at 1.2 GHz
Graphics subsystem: Adreno 405
RAM: 2 GB (except KIW-AL10 version with 3 GB)
Data storage: 16 GB
Memory card slot: yes, microSD up to 128 GB
Interfaces: Wi-Fi (b/g/n), Bluetooth 4.1 LE, microUSB connector (USB 2.0) for charging/synchronization, 3.5 mm for headset
Screen: IPS, 5.5" diagonal, resolution 1920×1080 pixels (FHD), ppi 400, automatic backlight level adjustment, protective glass
Main camera: 13 MP, 28 mm, 5 lenses, f/2.0, 1080p video recording and slow motion
Front camera: 5 MP without autofocus, 22 mm, 4 lenses, OV500 sensor, f/2.4,
Navigation: GPS (A-GPS support), Glonass
Additionally: accelerometer, light sensor, proximity sensor
Battery: 3000 mAh
Dimensions: 151.3 x 76.3 x 8.2 mm
Weight: 158 grams
The smartphone will be available in three color options – silver (white front panel), dark gray (sulfur front panel) and gold. In the photo accompanying the article you see exactly it. I can't say anything special about the appearance – the smartphone is made in a design that is already familiar and recognizable to Huawei. The camera eye protrudes slightly relative to the entire surface of the body, this solution is common now, I don't know whether this is good or bad.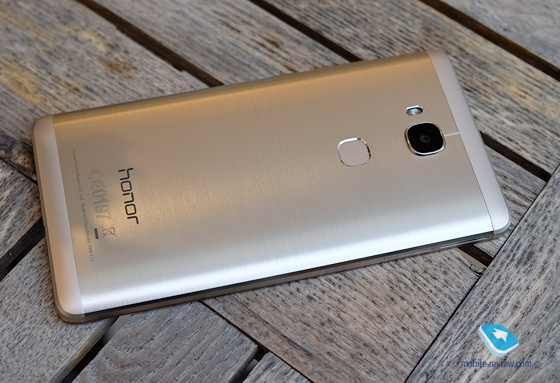 The back of the device is almost entirely made of metal, with the exception of the upper and lower segments, they are made of plastic. The front panel is glass.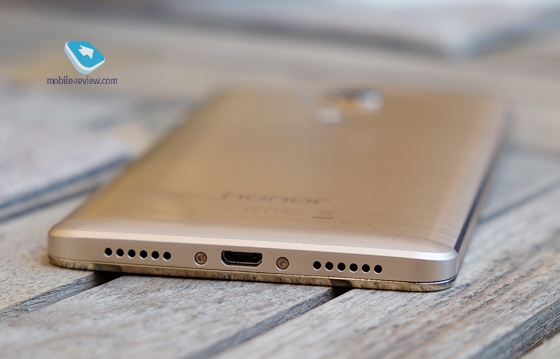 In terms of dimensions, this is a typical 5.5" device – relatively wide, yet quite light within its category and not too thick. It fits well in the hand, especially if you are used to using large smartphones.
IPS matrix is ​​selected for the screen. Diagonal – 5.5", resolution – 1920×1080 pixels. The viewing angles are maximum, there is a good margin of brightness. Yes, the screen is not the most contrasting, and it lacks richness of colors, but overall it is very good, and even more so for a smartphone in the budget segment. If we quickly compare the screens in Honor 5X and Xiaomi Redmi Note 3, I like the display in Honor 5X a little more; the screen in Redmi Note 3 is completely pale.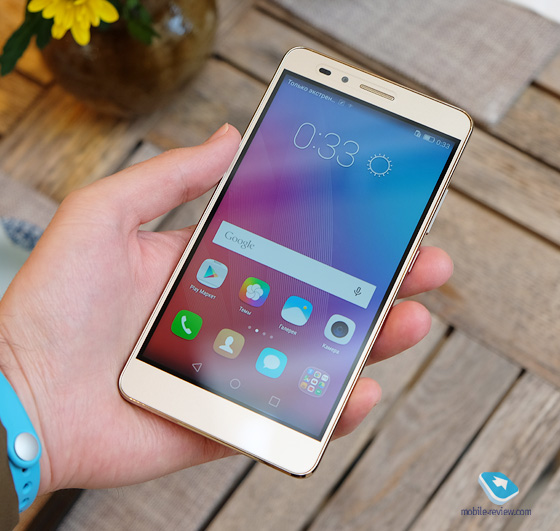 The fingerprint scanner is located on the back of the smartphone, under the camera module. This is the usual location of this element in Huawei devices. The scanner works, according to first impressions, very well. True, there is also a drawback associated precisely with the high scanning accuracy. Huawei believed (not unreasonably, but still in vain) that the accuracy of the new scanner is so good that there is no need to read one finger several times.
As a result, where on another smartphone you can make up to five prints of the same finger at all possible angles and inclinations, in Honor 5X the system will not allow you to scan your finger more than once. I don't know whether this feature will remain for release; it doesn't interfere too much, but if without it it would be possible to achieve 100% response of the scanner, now it's about 7-8 correct responses per 10 finger touches to the scanner.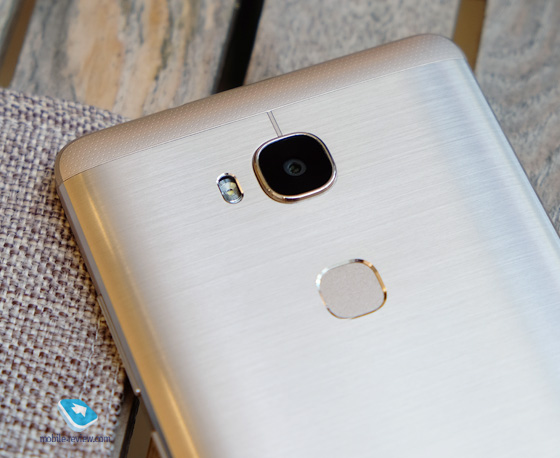 The platform used is Qualcomm Snapdragon 615; in this component, perhaps, Meizu M1 Metal and Xiaomi Redmi Note 3 based on Mediatek Helio X10 look preferable. Huawei chose a more proven, but less fast solution. The smartphone has 2 GB of RAM and 16 GB of internal memory, and also has a separate (not combined with SIM card slots) slot for a microSD memory card.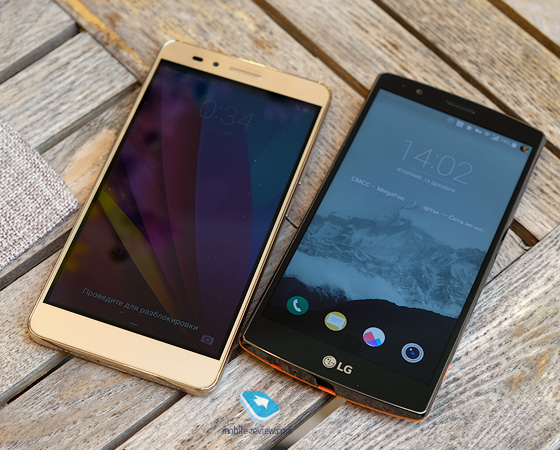 Main camera with a resolution of 13 MP, f/2.0 and phase detection autofocus. Front – 5 MP, f/2.4, without autofocus. We'll talk about the camera in detail in the review, but for now I'll just suggest you look at examples of pictures in different conditions.
Photo examples
Day
Night
Indoor
Video example (MP4, 20 MB) >>>
Huawei Honor 5X runs on Android 5.1 with the proprietary EMUI 3.1 shell. Some of the company's new smartphones already use EMUI 4.0, so we can probably expect that the Honor 5X will also receive an update with the next version of the interface.
The capacity of the non-removable battery in the smartphone is 3000 mAh, in this regard, Xiaomi Redmi Note 3 with 4000 mAh looks more interesting than Honor 5X and Meizu M1 Metal, but let's see how it turns out in practice.
Sales of Honor 5X have already begun in China, the price of the smartphone is 1,100 yuan. For comparison, Meizu M1 Metal costs 1,100 (16 GB) and 1,300 (32 GB) yuan, and Xiaomi Redmi Note 3 costs 900 (2/16 GB) and 1,100 (3/32 GB) yuan. If we compare smartphones, focusing only on personal impressions, then in terms of design I would give preference to the Meizu M1 Metal, after all, it has its own zest, and the similarity to the Apple iPhone does its job.
In terms of the overall set of characteristics and price, I prefer the Xiaomi Redmi Note 3. As for the Honor 5X, it turns out to be a strong middle peasant. But here's something else to consider. Even in China, not to mention other countries, including Russia, Huawei is a much more well-known brand than Meizu and Xiaomi. The last two are still the preserve of fans and are almost unknown in wide circles.
I try to communicate with different people in China, if such an opportunity arises, and I constantly ask them about popular brands. So, if you add up people's answers, it turns out that Huawei here in China is a large company whose smartphones are purchased, among other things, because they expect to receive a good level of quality without surprises. They don't say this about Xiaomi and Meizu.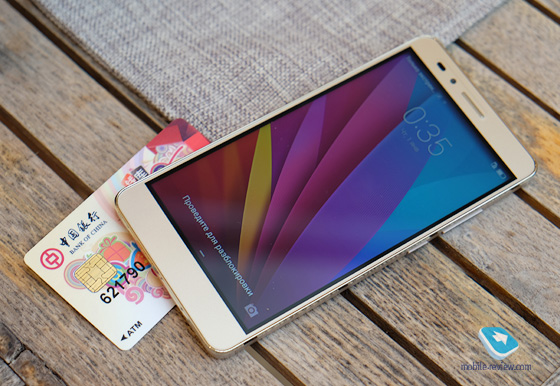 Huawei Honor 5X will appear in Russia early next year, it's better not to think about the price for now, taking into account what is now happening with the exchange rate again. The expected cost is 15,000 – 17,000 rubles, but this is still very approximate information. And yet I will say something that is already clear: at a price of 15,000 rubles in Russia, Huawei Honor 5X has every chance of becoming a hit, the device is balanced and has practically no weak points for its category, at least at first glance.

All news from the world of android, as well as interesting articles, columns and competitions – android.huaweidevices.ru
– everything about android!
Share: 
We are on social networks:
Screen
It's nice to note that IPS and even AMOLED matrices are no longer an attribute of only expensive smartphones. However, this trend did not start yesterday, so a potential buyer of a smartphone for 15-20 thousand rubles has the right to count on a high-quality screen.