Huawei health
Configuration and management of the main functions of Honor Band 5 occurs through the proprietary Huawei Health application or in common parlance – "Health". Not so long ago it was updated – it became "lighter", more visual and, for me, even prettier. Dark theme is supported if it is selected as the main system theme (at least in Android 10).
Design, materials, layout and ergonomics
If you are familiar with the previous generation of the bracelet, then Honor Band 5 will not surprise you with its design, because it looks exactly the same as Band 4. Its shape is rounded, the glass is convex and in fact there is nothing supernatural. Standard, classic appearance of a fitness tracker. The only things you can highlight are the silver ring under the display and the pattern on the strap.
On the other hand, such discreetness may, on the contrary, appeal to those who prefer a strict look of accessories with a minimum number of attention-grabbing details. In addition, competitors have not gone far either, so I will not make any claims to this tracker in this matter.
The materials used are "correct": plastic body and glass on the front. The latter has a good oleophobic coating. Fingerprints and stains may remain, but they can be wiped off very easily. Obviously, the glass front panel should be regarded as an advantage, because it is more difficult to scratch than a plastic one.
The dimensions of Honor Band 5 are small – 43×17.2×11.5 mm. It is even smaller than its closest and direct competitor from Xiaomi – Mi Smart Band 4. Due to this, the Honor bracelet will look good even on a thin wrist. Convenience is also good: the bracelet does not cling to foreign objects and goes well with clothes with long sleeves. Weight is only 22.7 g – it doesn't bother you at all, even if you wear it without taking it off 24/7.
On the front of the module there is a screen and a touch button below it in the form of a silver ring. There are small grooves at the ends on the left and right, thanks to which the tracker is attached to the charging cradle. At the top and bottom are strap mounts. At the back there are markings and inscriptions, a slightly protruding window with sensors and a pair of contacts for charging.
The module's water resistance is stated to be up to 50 meters (or 5 ATM). I think there will be no problems with this point when washing your hands, in the shower or in the pool.
I tested the Honor Band 5 in black. More precisely, it is black in all versions; only the standard straps may differ. You can also find dark blue, green and pink.
The strap is made of soft, pleasant rubber; there is a pattern of diagonal lines on the outside. The inner part is less rough and contains various service embossings. The material is pleasant and does not cause any skin irritation or other discomfort.
The strap, as you might guess, is removable. It looks like a classic watch, because it consists of two parts. There is a plastic clasp and a strap holder, which is additionally attached to the holes on it. The strap is attached to the module using small removable clips. The fastening feels reliable, I think such a phenomenon as unauthorized falling out is simply impossible to happen here.
Blood oxygen level measurement
Huawei, announcing the start of sales of Band 4 Pro in Russia, mentioned that the bracelet has a function for assessing blood oxygen saturation. And it would be strange if the company released a bracelet under its main brand without a feature that has been available in devices of the Honor brand that it sponsors since the fall.
However, Huawei Band 4 Pro is already on sale, and the promised feature was supposed to appear only on April 20, with a firmware update – that's what a company representative told us. But we already talked about how it all works in the review of Honor Band 5; it is unlikely that it will be implemented differently here.
Laconic design in three colors
Honor Band 5 is sold with different straps: black, dark blue and pink. The body color remains black in any case. The straps are replaceable.
A relief pattern is applied to the bracelet, and the gadget is secured with a classic buckle.
Owners of previous versions of Honor Band 3 and 4 are unlikely to notice the changes. It's still the same laconic design, rectangular shapes, a button under a small screen and a thin strap. The bracelet looks like a sports gadget, but it can also be worn with a shirt.
Other possibilities
Honor Band 5 Sport no longer has any exclusive advantages. Moreover, in a number of parameters it is seriously inferior to the Honor Band 5 – for example, it does not show the name of the caller when a phone call arrives (only the handset icon), does not display the text of messages, that is, using it as a replacement for a smart watch is still impractical. But Band 5 Sport provides the minimum necessary functionality of any modern fitness bracelet.
Differences between honor band 5 and mi band 4
They have the same price and a similar set of functions, but there is still a difference.
Design.


The Mi Band 4 case capsule has a more rounded shape.

Strap.


On Mi Band 4 it is latched with a button, on Honor Band 5 it is a classic buckle. A matter of taste.

Autonomy.


The battery capacity of Honor Band 5 is 35 mAh less. This affects the operating time without an outlet. Xiaomi claims 20 days when sleep monitoring and constant heart rate measurement are turned off, while Honor's record time on a single charge is about two weeks.

Play music.


Honor Band 5 can only control the player on Android. For Mi Band 4, the smartphone platform is not important. So, for example, from a Xiaomi gadget you can switch tracks from Yandex. Music" on iPhone.

Dials.


Mi Band 4 has a lot more of them.

Screen lock.


It can be enabled on a Xiaomi gadget, but Honor Band 5 is not protected from false clicks.

Charging.


To charge Mi Band 4, you need to remove the case from the strap and place it in the charging station. You just need to attach the clip to Honor Band 5.

Oxygen saturation sensor.


Mi Band 4 doesn't have it.
Mi Band 4 is slightly better than Honor Band 5 in some details. Most of them are not critical, so you can choose whatever you want.
Technical characteristics of honor band 5 sport
Screen: PMOLED, touch, monochrome, 0.5″, 48×88
Water protection: yes (5 atm)
Strap: removable, fabric
Compatibility: Android 4.4 and above / iOS 8.0 and above
Connectivity: Bluetooth 4.2
Sensors: accelerometer, gyroscope
Cameras: no
Internet: no
Microphone: no
Speaker: no
Indication: vibration signal
Battery: 77 mAh
Dimensions: 40.5×15×11 mm
Weight 19 g

Model on the manufacturer's website
In this case, alas, the characteristics cannot tell us much. Yes, it is clear that the monochrome screen is not even Honor Band 4, when compared with the models of the main line, but even earlier products. But the positioning of Honor Band 5 Sport clearly indicates the target audience – those who are interested in certain activities. Therefore, it is necessary to analyze it precisely in the context of real use. That's what we'll do.
Workouts with an ankle bracelet
The main difference between the Honor Band 5 Sport and the "regular" Band 3/4/5 is the ability to attach it to the leg and collect detailed statistics, which is only possible with this form of wearing the gadget. This is optimal for running – both outdoors and on a treadmill.
When connected to a smartphone, the device can build your track, but most importantly, it analyzes your technique in detail: cadence (number of steps per minute), ground contact time, landing impact, average overlap angle, average eversion.
Obviously, all this can be measured only if there is software support and appropriate sensors, as well as the ability to conveniently and securely attach the gadget to the leg. And Honor Band 5 Sport provides all this. Moreover, as we already noted, it automatically detects when you insert it into the clip.
And then there are two options. The first is that you can start a workout directly on the bracelet. The second option is that you can first attach the bracelet to your shoes (the most convenient way is on the laces of your sneakers) and only then start the workout through the application. The application will begin a countdown (3, 2, 1), and at the moment when you need to start, the gadget on your leg will vibrate.
An interesting detail: the manufacturer takes the concept of "workout" seriously, so a run shorter than 10 minutes and 1 kilometer is not considered a workout, and therefore, detailed statistics on it are not saved. But the bracelet is not aimed at those who just went for a five-minute run to clear their conscience.
The fact of the matter is that it is intended for motivated people who, even if they are not athletes, want to run regularly, often, for a long time and strive to improve not only external indicators – speed, distance, time, but also running technique. And for this, the application contains all the necessary information, as well as very valuable text recommendations.
Another mode that is available in the "sports" version of Band 5 is basketball. But here is an important caveat: it is only supported on Android. If you use a bracelet with an iPhone, then alas. The Huawei Health app, even on Android, does not have this mode; you can enable recording of a basketball practice only through the bracelet itself, when it is inserted into the clip, and only if it is paired with an Android device.
For the basketball mode there are no lower restrictions on duration: it will record at least half a minute and talk about the training, giving a total score and an assessment of five indicators, including strength, acceleration, quality of jumps, jerks and movement (note the lack of uniformity of translation on different screens of the application ).
Summary figures are shown in the form of diagrams (here "flipping through" workouts would be useful to see the dynamics, but this is not yet available), there is also more detailed data on jumps and movement speed.
We also tested the Honor Band 5 Sport in cycling mode, but in this case we did not receive any exclusive information. That is, even when the bracelet is inserted into the clip on the shoe, it does not count the number of pedal presses and other things. You can just as easily ride a bike using any other Huawei/Honor wearable device or strap the Band 5 Sport on your hand.
Of course, like other current bracelets from the manufacturer, Honor Band 5 Sport has a moisture protection of 5 ATM, which allows you to safely swim with it in the pool and swim in open waters (if the water is salty, then you should wear it rinse thoroughly under fresh water). It gives the same swimming information as Honor Band 5.
Packaging and accessories
The bracelet comes in a nice and fairly compact box, inside which we find the electronic device itself, leaflets and manuals, a removable strap (we'll talk about it below), a clip for attaching the Honor Band 5 Sport to shoes and a charging cradle.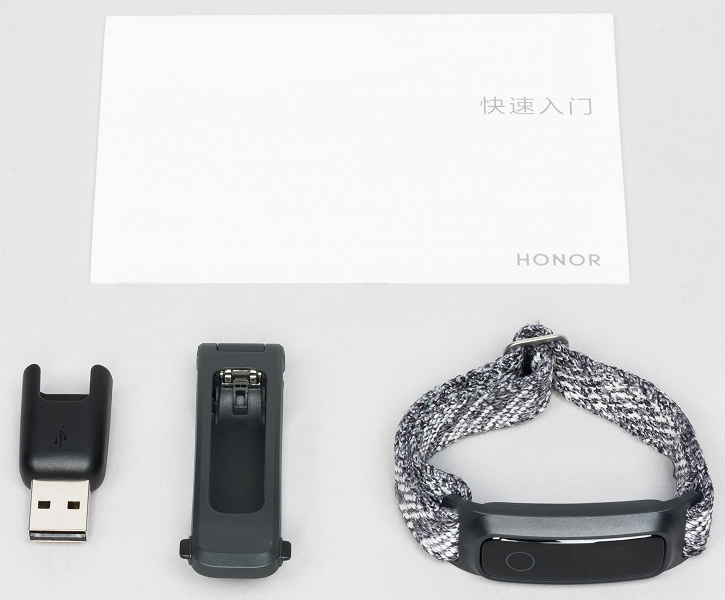 As a matter of fact, the packaging itself indicates the direction of the gadget: the strap is designed to provide maximum wearing comfort (including precise adjustment to the thickness of your hand) and the ability to wash, and the clip not only allows you to conveniently attach the Band 5 Sport to the laces of your sneakers, but also launches modes that are otherwise inaccessible.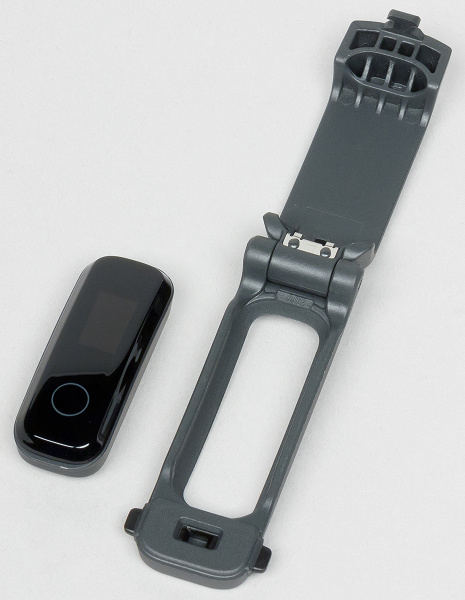 As for the strap, firstly, it is quite impressive in appearance – the color is heterogeneous and therefore interesting, and secondly, it can be perfectly adjusted to your hand. This is especially important during training, so that the bracelet does not put pressure, but also does not dangle on the wrist.
Conclusions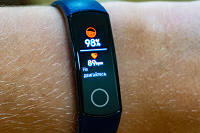 You shouldn't consider Band 5 Sport as a version of Band 5 improved with additional sports functions – these are completely different devices, with only the names being similar. For everyday use, the "regular" Band 5 is definitely preferable, since its screen is color and entirely touch-sensitive, phone calls and messages come with the caller's name, plus there is sleep tracking and a smart alarm clock.
So, Honor Band 5 Sport is an interesting sports gadget aimed at a very narrow audience: runners and basketball players. The data that the device collects and transmits to the user is unique in many ways, and this immediately sets the new product apart from many competing solutions. We also note a very convenient clip for attaching the bracelet to shoes.
Results
Honor Band 5 does not give new sensations. It is very similar to both the fourth generation Honor Band and its competitor Mi Band 4. However, one cannot say that there is something wrong with it: the sensors read information correctly, it is convenient to operate the gadget, it looks good with almost any clothes, and its strap does not pinch your hand.
If you need a simple and budget bracelet for training and activity tracking, Honor Band 5 is perfect.
The official price of the device in Russia is 2,990 rubles. You can find it cheaper on AliExpress and with promotions in stores.
Buy
The author expresses gratitude to Honor for providing the device for testing.